IT Excellence – how does that work? Essentially, it is about reducing IT costs and reinforcing agility and innovative power. It is thereby about optimising applied resources in front of the background of permanent cost pressure combined with the challenge of the advancing digitisation. This is exactly what many IT-organisations concern themselves with nowadays. How can you lower IT-costs quickly and permanently while raising the IT-performance? You say that is not possible? It is! Attached you can find the approach to a solution.
MANAGEMENT COMMITMENT
Top Management Commitment is absolutely necessary. There are going to be many people showing up at the Top Management to report, why all of this does not work this way. It is your job as top manager to keep a level head. This belongs to the Change Management and the corresponding curve of the change process. Everyone, manager and employee alike, will go through this curve. There will be the vale of tears before the chances will be seen and tranquility returns to the team. This is the case for every project. The reconstruction of the IT department is especially painful. So hang on!
SAVINGS TYPES
Enclosed you will find a short excursion to the different savings types. Dividing them is not always exact, it does, however, give a clue towards the different fields of activity.
Cost reduction in relation to the prior period

Budget savings
Savings through technical changes in specifications (e.g. through the IT-architecture)
Savings through process enhancements

Cost prevention

Negotiation successes
Savings through general market development (which the purchasing department is not responsible for)
DETERMINE FIELDS OF ACTIVITY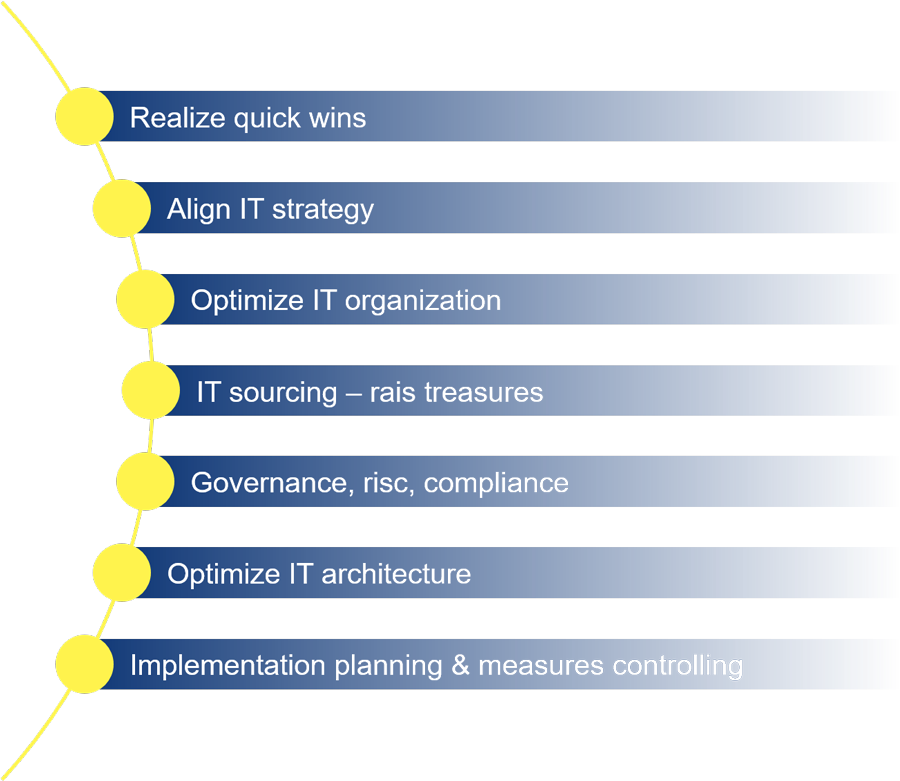 IDENTIFY QUICK WINS AND IMPLEMENT THEM AS URGENT MEASURES
This is important for the acceptance of the project!
Go through big contracts (contractors, telecommunication, licenses,..)
Optimise IT-architecture
Digitise fat, expensive, manual processes
ADJUST THE IT-STRATEGY TO THE BUSINESS STRATEGY
Firmly schedule digitisation
Secure enterprise, but surprise business with agile, innovative solutions (bi-modal IT)
OPTIMISE IT-ORGANISATIONS
Are there fields of activity in the organisational department that are in need of optimisation?
Division and process orientation
Reflect about new forms of organisation such as DevOps
New workplace environments (collaborative instead of silo)
Establish innovation hub with the goal of surprising the business with agile and innovative solutions (business alignment, leads to acceptance of the IT)
IT-SOURCING
License management
Contract management
Purchase optimisation
GOVERNANCE, RISK, COMPLIANCE (GRC)
Establish / optimise IT-controlling
KPIs for measuring performance (benchmarking, ITIL, COBIT5)
Risk management
Compliance management
IT-ARCHITECTURE / IT-INFRASTRUCTURE / IT-OPERATIONS
Which availabilities will actually be necessary?
Are there cheaper possibilities to offer the same requirements with almost the same quality?
Continuity management
Virtualisation & container (e.g. docker)
Anything as a Service (XaaS) – rent models instead of purchase/operation and acquisition of licenses

Infrastructure as a Service (IaaS) e.g. Amazon Web Services
Platform as a Service (Paas) e.g. HANA Cloud platform
Software as a Service (SaaS) e.g. Microsoft Office 365
Insourcing / outsourcing / near- & offshoring / make or buy decisions
CONTROLLING MEASURES WITH THE 5 STEP HARDNESS LEVEL MODEL
The hardness level model, which you might know from strategic purchasing, qualifies to achieve these tasks. It is excellent for planning, controlling, and measuring every single one of these measures, as well as giving a forecast about the project development. The goal of the communication has to be to produce as many winners as possible. Not only the project manager, but every person that committed to the savings has to be in the spotlight. This leads to the appropriate acceptance of these measures.

The hardness level system differentiates the following hardness levels:
Hardness level 1: Define the idea for planned measures or savings
Hardness level 2: Approve for implementation
Hardness level 3: Concrete execution
Hardness level 4: Measure implemented or concluded. Savings are quantified
Hardness level 5: Successes are recognised in income
CONCLUSION
Next to the hunt for cost and complexity drivers in the IT, it is extremely important for the acceptance within the business to be able to realise the appropriate customer orientation combined with an innovative and agile project execution. The requirements of the business, especially in front of the backdrop of the Digital Change absolutely have to be fulfilled. Methods like SCRUM, bi-modal IT, and innovation hubs help with that. The aforementioned savings measures ensure that the necessary budget for these changes and innovations is available.
FEEDBACK
Do you have questions or suggestions, message me under the cue "IT Excellence":
michael.muthig@mutcon.com
I am looking forward to your message!