How do you succeed in optimizing processes, services and products nimbly or even identifying and implementing new successful business models? Innovation management is the solution. Attached is the basic concept of a pragmatic approach to the solution.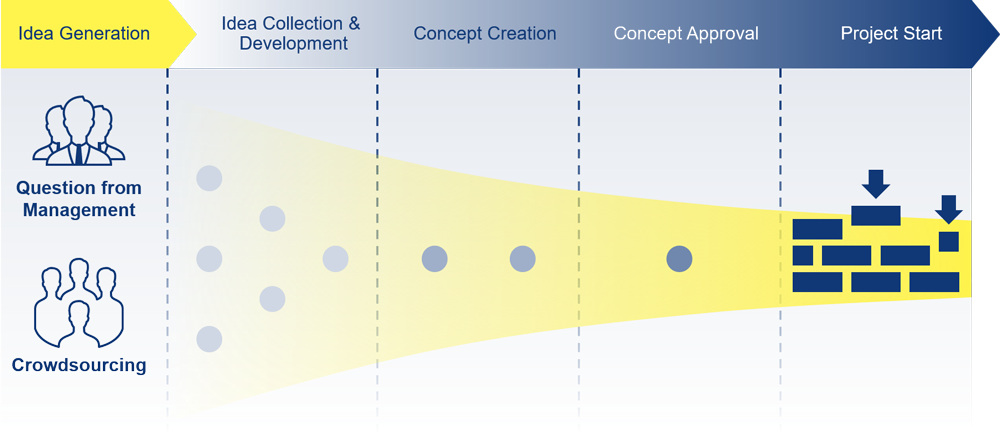 FROM THE IDEA TO THE PROJECT
The first step is to generate as many ideas as possible. This can happen actively through the concrete posing of questions by management or a general appeal whereby the issues are open. It is useful to support the collection and evaluation of ideas through a collaboration portal. In the next steps it's a matter of developing the ideas, assessing them qualitatively (response with intuition) and quantitatively (response on the basis of substantiated figures and facts), and thus, as is customary in portfolio management, to transform the best ideas into concepts, proof of concepts, and projects. Here the Stage-Gate-Modell© developed by Professor Robert G. Cooper is helpful. In every gate ideas and concepts are being further developed, evaluated, and selected. Here the rigorous elimination is just as important as the approval for the next step. At the end there is the transformation into normal project management. How this process looks exactly, which criteria must be met in each case in order to take it to the next step in the process, and how the decision is arrived at will be defined individually. It is a good idea, however, to ensure decisions be made as quickly as possible; otherwise the process will stall. Attached are two examples for qualitative and quantitative evaluation.
THE QUALITATIVE ANALYSIS OF IDEAS
Early on in qualitative idea analysis, much is yet unknown. One finds oneself in an early stage and must assess the ideas more from instinct. For this general orientation a chart such as the following is appropriate, for example, in which the ideas are classified and positioned roughly.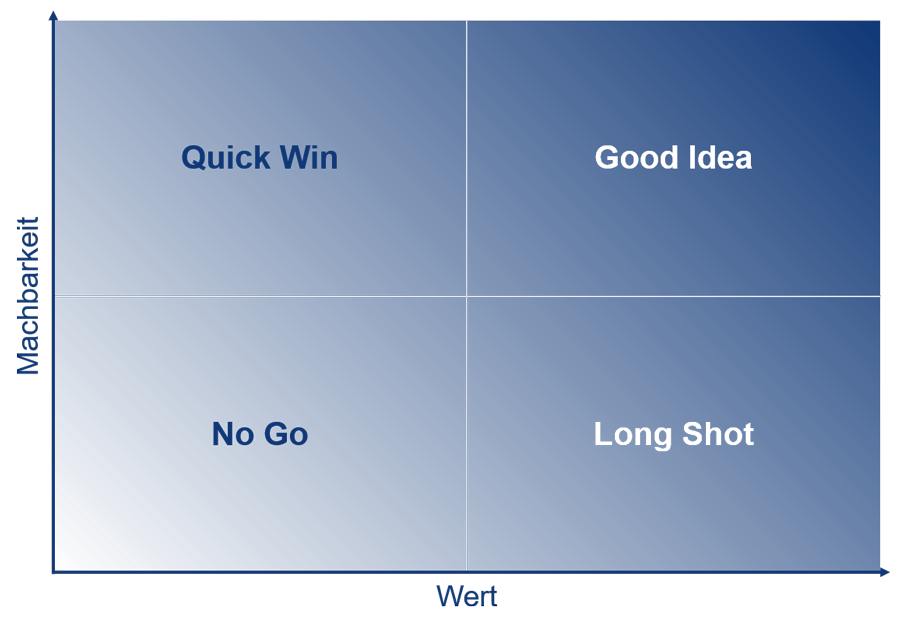 THE QUANTITATIVE ANALYSIS OF IDEAS
In the context of further development of ideas, more and more facts and quantitative measures come to light. These can be used, for example, for a cost-benefit analysis, taking into consideration criteria for exclusion and particular risks.

FEEDBACK
Have I forgotten something important? What tips do you have for the successful implementation of innovation management? I will be pleased to have your input.
m@muthig.it
INTERESTING LINKS
Business Model Innovation – Prof. Dr. Oliver Gassman, HSG Uni St.Gallen
https://www.youtube.com/watch?annotation_id=annotation_2408639927&feature=iv&src_vid=Jb0YzYW05nk&v=B4ZSGQW0UMI
WHERE GOOD IDEAS COME FROM by Steven Johnson
https://www.youtube.com/watch?v=NugRZGDbPFU
The art of innovation | Guy Kawasaki | TEDxBerkeley
https://www.youtube.com/watch?v=Mtjatz9r-Vc